Next Up: .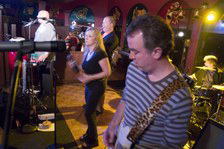 For bookings contact John Doherty at 919-528-8939 or Chad@timemachinebandnc.com
Time Machine Band has been entertaining audiences since 1986. The Band has performed throughout the Southeast appearing at Festivals, Fairs, Corporate Events, Private Parties, Weddings, and Clubs. The band features the areas most talented musicians whose backgrounds are rich in history from all parts of the country. Time Machine is known as one of the area's very best Variety bands featuring your favorite Rock, Pop, Soul, Funk, R&B, Motown, and Beach from the 60's through today.

Through the years Time Machine has shared the stage with Blue Magic, Marshall Tucker, Charlie Daniels, Clarence Carter, Clifford Curry, Lady Jaisun, and The Brothership. You will often see Time Machine appearing at the same venue since repeat performances are in demand. Time Machine is at ease working at a large outdoor venues with full sound and lighting or working one on one with a client to make their wedding or private party a memorable experience. The group prides themselves on their professionalism and dedication to their clients.

For bookings contact John Doherty at 919-528-8939 or Chad@timemachinebandnc.com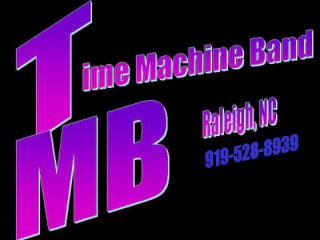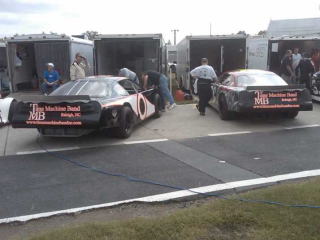 TMB - 2008 - 2010
Paul Johnson
Art Gruskin
John Doherty
Phil Mazarick
Barney Branch
Heather Bailey
Sean Overington
Chad Doherty
TMB - 2006-2007
John Doherty
Art Gruskin
Heather Bailey
Sean Overington.
Paul Johnson
Art Martin
Chad Doherty (not pictured)
TMB - 2005-2006
back row
Rod Sasser
John Doherty
Steve Brown
middle row
Chad Doherty
Heather Bailey
Barney Branch
Paul Johnson
front row
Ben Currin.
TMB - 2004-2005
Lisa Ray
Ben Currin
Barney Branch
Paul Johnson
John Doherty
Rod Sasser
Steve Brown
Wade Durham III
Chad Doherty ( not pictured)
TMB - 1998-2003
Herb Lamb
Barney Branch
Al Williams
Mike Quinn
John Doherty
Keith Pollard
Steve Brown
Chad Doherty (not pictured).
TMB - 1996-1998
Keith Pollard
Ron Stancil
Mike Quinn
John Doherty
Charlie Clark
Al Williams (seated).
TMB - 1994-1995
back row
John Doherty
Charlie Clark
Keith Pollard
front row
Ron Stancil
Al Williams
Jerry Daye
TMB - 1990-1993
Charlie Clark
Gary Vinson
Al Williams (kneeling)
John Doherty (kneeling)
Ron Stancil
Keith Pollard
TMB - 1987-1989
Charlie Clark
Ron Stancil
Al Williams
Keith Pollard
Gary Vinson
John Doherty
TMB 1987-2010
Some pics of John
(click to enlarge)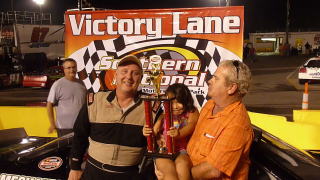 Sat. 18,2012 - Donald Brace sweeps the twin features at Southern National in the #20 Time Machine Limited Late Model. Dennis Sargent Jr.
in the Time Machne #38 finished 12th in the first feature and dodged the big pileup in race 2 to grab 10thth.